Welcome back!  A lot has happened since the last post, so I'll just list it all off below

*I've Composed 2 pieces of "concept" music that outline all of the various elements/instruments/colors we plan to use in 'Kenshi.'  They'll act as the "wells" from which I'll pull ideas from to help keep it all cohesive.  This is especially important given the eventual scale of the game & the Music System.  (These 2 pieces of music may not show up in-game, but they'll be on the eventual soundtrack!)
*Speaking of which… I've tested the Music System I designed in Wwise & it's working quite well so far!  Whenever it goes in-game (not sure yet) I'll probably make a video discussing our vision for the music.
*I've been in talks with various session musicians & nothing is final yet, but we'll hopefully have some unique instrumentalists lined up.  Everything from Shamisen, Koto, & Fue to Hurdy Gurdy.
*Starting today, I've begun composing the actual in-game music.  A good portion of which I'll be able to "finish" on my own, but we'll eventually need to step into the studio to record some live players.  I'll definitely take lots of pictures when we get to this stage!
*Kind of random, but these 2 instruments (among many others) will be part of the score as well.  I picked up the Toy Guitar when I was very young and visiting Mexico on a family vacation; in fact that may have been the last time I touched it until I started the 'Kenshi' Score!  Because it had been sitting in a dusty cardboard box for so long, the guitar was waaaaaay out of tune.  However, it has a certain haunting quality about it that made me think that it might just work for 'Kenshi'.  Only time & testing will tell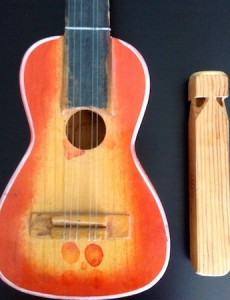 Thanks for reading!