Over the past few months, I've been fortunate enough to work on a great new game in development called The Stomping Land.  I've specifically been tasked with creating audio for the game and I'd like to give you a little "behind the scenes" look into one of my favorite areas… creating Dino sounds!
Gallimimus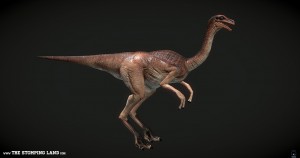 These "small" long distance runners are herbivores who like to roam around in packs for protection.  It's name is translated as "Chicken or Rooster Mimic," however I didn't think the sounds of Chickens would be appropriate for our muscular Gallimimus.  With that said, I did feel very strongly that vocalizations from some kind of flocking bird would be appropriate.  First, I want to talk a little bit about how I like to build sounds though.  I like to think of it as writing music & building in layers, so quite often the vocalization sounds I create will feature Bass, Tenor, & Soprano parts (Low, Mid, High).
For Gallimimus I listened to a variety of different bird sounds, went to the Zoo to record a few new ones, and eventually settled on 4 unique bird vocalizations that would allow the Gallimimus to be quite expressive & dynamic in range.  The sounds of Geese & Flamingos make up a majority of the communicating/chattering & aggressive sounds.  Contrarily screeches of a Seagull make for a great "death" sound & the lonely call of a peacock works quite well for the passive/ambient vocalizations (perhaps of a single lost Gallimimus trying to find their way back to the flock).
After pitching them down to fit the size of the Gallimimus, all of these sounds I would consider the featured or "soprano" layer.  In some of the vocalizations, you might hear the other layers (especially if you're pretty close to the Gallimimus).  These are subtle "flourishes"… perhaps grunts, screeches, gargles, or even breathing… all of which depends on the purpose of the vocalization.
Here is an all-audio link to a possible encounter scenario in-game between a lone Gallimimus & Carnotaurus.  http://kolemusician.com/sl_bgstory1.mp3
That didn't end very well for our Gallimimus… hope you enjoyed it nonetheless!  Next blog post will feature the sounds of a different Dino (or perhaps even our Hunters)!