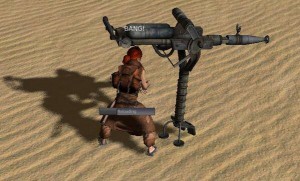 FFFFTTTHUUUMMMPPPH!!!!  That's the sound of a Harpoon Turret… kind of.
What I've been working on…
*Various sounds for Various Ranged weapons (one of which you see above).  Not all the sounds are completed, but a decent chunk of them are finished.
*More impact sounds.  Want to hit doors, gates, walls, rocks, even the sand?  Got ya covered now.
*Plethora of new sounds to existing sound systems (UI, Doors open/closing, etc.)
Soon to work on…
*Swamp stuff!  Basic Ambiance & eventually music after I get back from the GDC.
Speaking of which, I'll be attending the GDC next week & if you'll also be there then just let me know! https://twitter.com/kolemusician